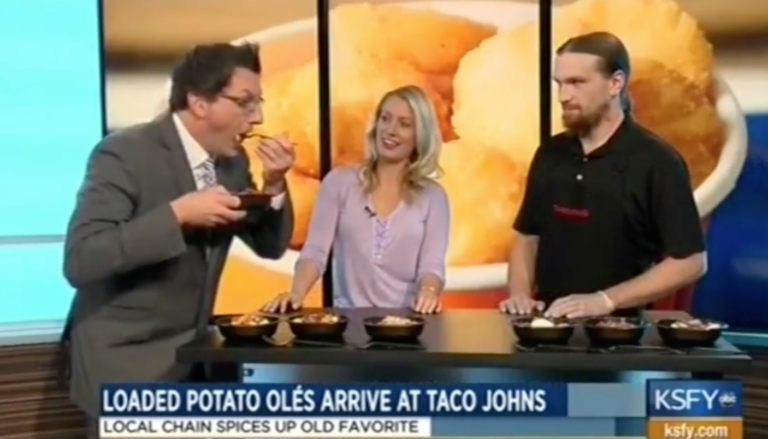 Morning Show Host Loves Flamin' Hot Cheetos Loaded Potato Olés
SIOUX FALLS—Local Taco John's General Manager Chris Carroll appeared on the "Shawn and Kamie" television show on Wednesday morning (watch video below) to discuss the restaurant chain's exciting new menu offering — Loaded Potato Olés.
Carroll is the latest team member from Taco John's to appear on regional morning shows across the country to showcase what some call "turbocharged Potato Olés" — which are available in seven different varieties.
"The signature item of Taco John's is Potato Olés," Carroll told morning co-host Kamie Roesler. "So this is a new way to experience our most famous dish."
"Of course we still have the classic Potato Olés but we decided to enhance them and it's been a home run throughout," he said. "Some places are coming close to selling out. We're thrilled with the response."
Carroll brought in all seven new menu items including:
Bacon Cheddar – Potato Olès®, bacon, sour cream, cheddar cheese, nacho cheese

Beef & Cheese – Potato Olès® covered in taco meat, nacho cheese topped with diced onions, mild sauce and cheddar cheese

Bacon Ranch – Potato Olès®, bacon, tomatoes, ranch dressing, nacho cheese

FLAMIN' HOT® CHEETOS® – Flamin' Hot Cheetos, sliced jalapeños, super-hot sauce, house salsa, sausage crumbles, nacho cheese

Breakfast Works – Potato Olès®, fluffy eggs, bacon pieces, cheddar cheese, fajita blend, sausage crumbles and nacho cheese

Breakfast Scrambler – Potato Olès® topped with fluffy eggs, poblano peppers, onions, fresh tomatoes, shredded cheddar cheese, nacho cheese, and either bacon or sausage

Dessert – Potato Olès® mixed with Mexican Donut Bites coated with cinnamon, bacon, cream cheese icing and chocolate sauce.
Morning show co-host Shawn Cable waited for less than a minute before diving into the Breakfast Scrambler. Upon finishing that dish, Cable grabbed the FLAMIN' HOT CHEETOS version.
"I love jalapeños. I always order them," he said. "This is good. This is really good. These are really hot. These are really good. Really good. And really hot. And really good."
Not wanting to put the dish down, he asked his cohost to do the weather for him so he could continue to eat.
Unfortunately for Cable, she said no. So he took a quick break, gave the weather, and then continued his breakfast mission.
Each of the new menu items begin with the original foundation that everyone has come to love and adore over the past 39 years – round bites of crunchy potato, cooked golden brown and sprinkled with a signature blend of bold spices.