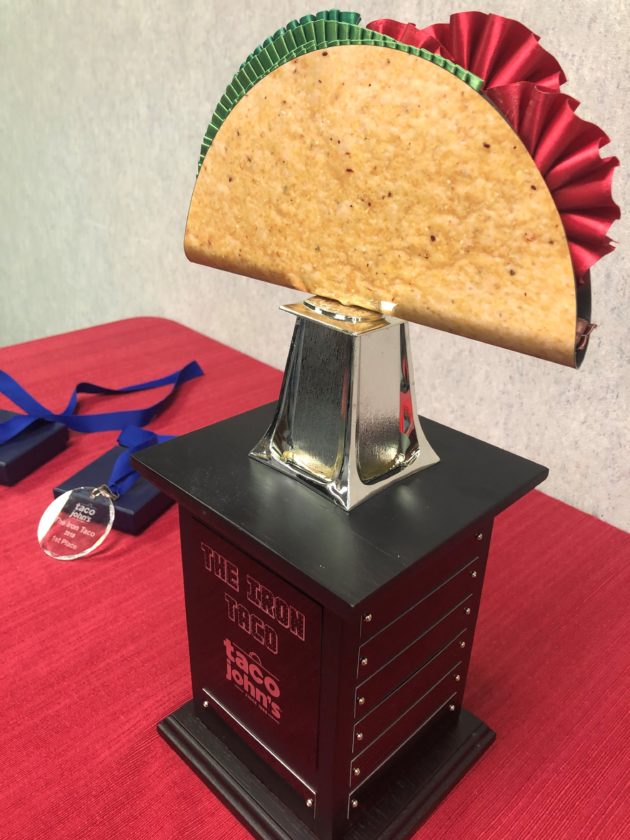 CHEYENNE, Wyo. (Nov. 18, 2019) – Taco John's® is gearing up for its bigger. bolder. better. Iron Taco competition!
On Thursday, Nov. 21 at 9 a.m., six Wyoming high school teams will participate in the 12th annual Taco John's high school culinary competition, in which young chefs from across the state compete in creating the next food item on the Taco John's corporate menu.
After Taco John's reviewed over 60 submitted recipes, teams representing high schools from Casper, Cheyenne, Newcastle, Glenrock, Guernsey and Saratoga were selected to travel to Taco John's International Headquarters in Cheyenne for the competition.
On competition day, each team will have 90 minutes to build their recipe. Upon completion, teams will present their food item to a panel of judges and answer a series of questions.
The teams will then be graded on six main points, including creativity, flavor, overall fit with the existing Taco John's menu, research and development, overall presentation and teamwork.
The members of the winning team will each receive a $500 scholarship, a coveted Iron Taco trophy to bring back to their school and a chance to have their item placed on the menu in Taco John's 11 corporate stores for 30 days. While individuals from the second-place team will each receive a $250 scholarship. If the food item is successful, it could go national and be placed in the nearly 400 Taco John's locations across the country.
"We're really looking forward to seeing these young chefs' creations during the contest," said Bob Karisny, vice president of menu strategy and innovation for Taco John's International. "Often times the competing teams use similar ingredients, so that helps us better determine what flavors to incorporate in our menu items going forward, and it's especially beneficial for us to know what ingredients are popular in this demographic. We've seen impressive recipes in the past, and we're excited for what's to come this year."
WHAT: Iron Taco – Taco John's 12th annual high school culinary competition.
WHEN: Thursday, Nov. 21, 9 a.m. to 4 p.m.
WHERE: Taco John's International, Inc. Support Center, 808 West 20thSt.
MEDIA: Interested members of the media are invited to attend the competition.
About Taco John's®
Taco John's operates and franchises nearly 400 quick-service restaurants in 23 states. Privately owned, the business opened its first restaurant in 1969 in Cheyenne, Wyo. Taco John's prides itself on serving generous portions, menu items prepared fresh to your order, high quality ingredients and special recipes, seasonings and sauces. For more information or to apply for a position, visit tacojohns.com.