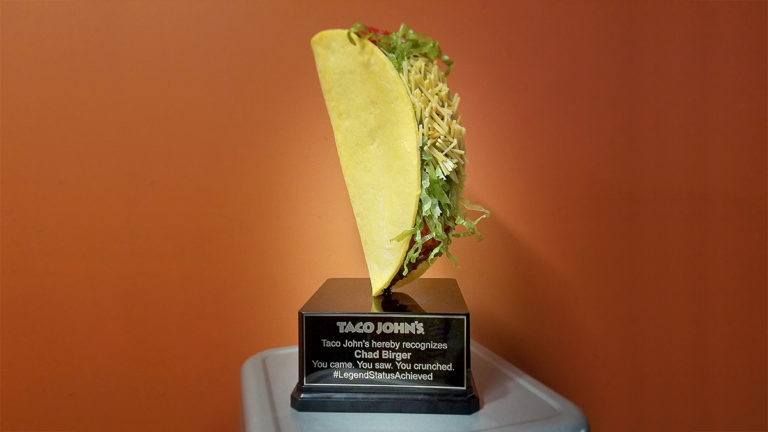 CHEYENNE, WY (October 9, 2017)—Sioux Falls area resident Chad Birger will receive the highest U.S. civilian taco award in a formal ceremony on Tuesday, October 10 (Taco Tuesday) at 12:15pm at Taco John's on 5100 South Louise St in Sioux Falls.
Birger, who was named "Taco John's King" by the Sioux Falls Argus Leader in July, will receive the coveted Taco John's Taco Trophy to commemorate his tireless dedication to tacos everywhere.
The prestigious taco trophy has been awarded only once before – to Minneapolis sportswriter Michael Rand, who – after winning the award — placed the trophy amongst the Pulitzer prizes won by the Minneapolis Star Tribune.
Birger has been a longtime fan of Taco John's dating back to 2005 when his pregnant wife craved Mexi-rolls, Meat and Potato Burritos, and Potato Ole's.  "I made late-night trips to Taco John's constantly," Birger said.
Realizing that he only missed eating at Taco John's on Taco Tuesday twice in 2016, Birger vowed to never miss a Taco Tuesday in 2017. Sadly, a vacation to the Grand Canyon in mid-June squashed his dream.
"I have eaten at Taco John's every Tuesday since and my goal is to make it to 51 out of 52 weeks," Birger said. "I also eat there most Thursdays for lunch when Taco Bravos are on special, and frequently get breakfast burritos on Wednesday mornings."
Since the newspaper article, Birger has been so popular in taco circles that Taco John's celebrates his existence every Tuesday by recognizing him on their outdoor signs and by giving away celebratory mugs for patrons who dine with Chad in the restaurant.
The presentation ceremony will begin at 12:15pm at Taco John's (5100 South Louise St) in Sioux Falls this Tuesday. Free tacos will be available to all members of the press.
What:              Presentation of Taco Trophy to local Sioux Falls resident
When:             Tuesday, October 10 at 12:15pm
Where:            Taco John's, 5100 South Louise St, Sioux Falls